SUCCESS BEGINS WITH READING
Meeting 3rd-grade reading proficiency is vital as it lays the foundation for lifelong academic success. At this critical stage, children transition from learning to read to reading to learn. Proficiency at this level ensures comprehension of complex texts, enabling them to tackle more challenging subjects in later grades. Without it, students may face academic struggles and a higher risk of falling behind. Proficient readers are more likely to excel in all subjects, fostering confidence and a positive attitude towards learning. Equipping 3rd graders with strong reading skills sets the stage for a brighter, more promising future for each child, unlocking a world of opportunities and possibilities.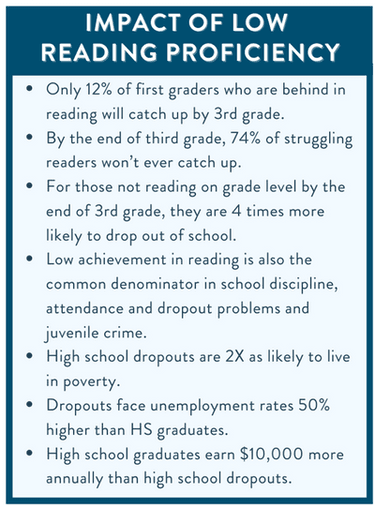 Long-term, students' reading proficiency directly impacts the economic prosperity of our community, as it:
cultivates a skilled workforce

encourages civic engagement

attracts investment and business opportunities.
Currently, only 36.6% of 3rd-8th graders in Cabarrus County Schools meets the College & Career Ready proficiency standard (level 4 or 5 on End-of-Grade tests) compared to the 73% identified by my FutureNC needed to meet future workforce demands within the county.
FOSTERING A LOVE FOR READING
The Cabarrus County Education Foundation is passionate about fostering a love for reading in children. Our Reading+Mentoring 4 Success program carefully aims to ignite students' achievement and confidence through increased reading proficiency. Based on the latest research, three strategies are at the heart of the program:
Encouraging pleasure reading. Students who do not read for pleasure tend to be 2.5 months behind their peers that do.
Building students home libraries. Having at least 20 books in the home has an even greater impact on student reading proficiency than parental income or education levels.
Ensuring students have the skills needed to be successful. Students with strong reading skills are more likely to enjoy reading, as studies show that 92% of proficient readers in the fourth grade report reading for pleasure, compared to only 27% of below-basic readers.
Our goal is that every child reaps the rewards that reading has to offer.
LEARN MORE ABOUT THE PROGRAM: