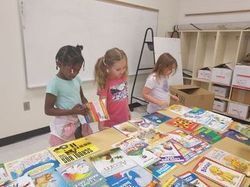 Over the course of a comprehensive 20-year study spanning 27 nations, a remarkable revelation emerged: the mere presence of books within a household stands out as a potent indicator of academic achievement. This finding holds even more sway than the traditionally emphasized factors of parental income, nationality, or educational attainment. This realization underscores our unwavering conviction in the profound impact of ensuring access to books for students. Enabling them to delve into the realms of reading at any time and any place holds the potential to cultivate academic triumph. Yet, the significance transcends mere accessibility—it extends to the thoughtful curation of the right book for each student. The book that not only captures their interest but also matches their reading capabilities, fostering a sense of pleasure and enjoyment in the act of reading. In championing this approach, we lay the foundation for a future where academic success is harmonized with the joy of learning.
Volunteers are needed to:
Prepare books for distribution events

Staff Book-a-Palooza Events
Dates for each of these opportunities are being finalized with schools and will be posted as soon as possible. Check back for updates! You may indicate your interest in volunteering with Book-a-Palooza events by completing the following form and someone will follow up with you soon with more information.
---