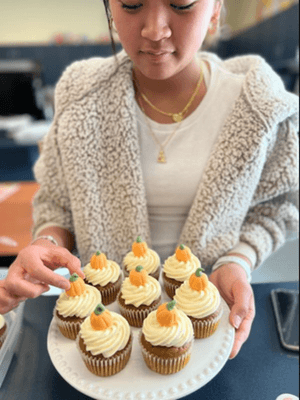 A Practicum and Competition – where Culinary Creativity meets Real-World Business Savvy!
In this STEM Connect experience, students will immerse themselves in their love for baking and enhance their skills in creating delightful desserts in the Sweet Treats Bake-Off Challenge. This practicum will spark their imagination as they design delicious treats, all while gaining valuable life skills. From formulating impeccable product descriptions to handling finances, designing captivating presentations, and devising effective marketing strategies, all in an effort to showcase their culinary and business acumen. 
The grand finale of the Bake-Off Challenge is the Sweet Treats Extravaganza, where the community can see all of the delectable treats in person, winning raffle tickets drawn and students recognized for their culinary and business success. Raffle tickets will be available for purchase online October 2-16 or in-person at the Sweet Treats Extravaganza on October 17th held at the Great Wolf Lodge.