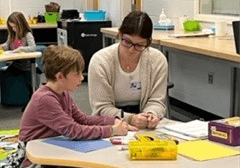 Our aim is for the children of Cabarrus County to develop a genuine passion for reading, as this lays the foundation for both their academic accomplishments and overall life success.
When students experience setbacks during their early years of education, these challenges often persist, leading to disparities in opportunities and achievements as they grow. It is imperative that we excel in addressing this issue!
This is the driving force behind the Reading+Mentoring 4 Success initiative, which is constructed upon three foundational pillars: fostering a love for recreational reading, establishing personal home libraries for students, and providing tutoring support to empower struggling readers in developing the essential skills for successful reading.
CCEF is excited to release the 2022-2023 Reading+Mentoring 4 Success Report today.