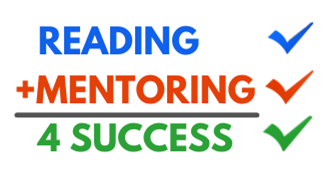 SUPPORTING STUDENT ACHIEVEMENT
Reading is foundational to all learning so we want to make sure our CCS students have the skills to succeed both academically and in life. Students who do not meet the critical milestone of reading proficiently by the end of third grade face a uphill battle toward graduation and even economic prosperity as adults. 
Our drive is to see all students love reading because it opens the door to opportunity and sets them on a path to success for a lifetime! When a child has a love of reading, they develop a strong leisure reading habit which further leads to greater academic success. Pleasure reading has been shown to make students more articulate, develop higher order reasoning, and promote critical thinking. All skills need for success in today's workforce.
We want our CCS students to achieve 3rd grade reading proficiency so they can transition from "Learning to Reading" to "Reading to Learn" to put them on a pathway to future academic and life success. 
The Reading+Mentoring 4 Success program is comprised of three initiatives:
Pleasure Reading Incentive works to create a school culture that encourages reading for enjoyment and rewards students' efforts with an earned "reading voucher" for hitting targets for pleasure reading.
Book-a-Palooza events help students build their at-home library so they can read anytime and anywhere. Students exchange their "voucher" for a reading material of their choice - magazines, comic books, graphic novels, joke books, chapter books, folklores, poetry and many other options. The goal is that all students can find something they like to read that becomes their "own". 
Striving Readers Mentoring provides one-on-one mentoring to help students develop critical reading skills that have yet to be mastered and  hinders their success with reading and academic success. 
CCEF is helping boost student reading proficiency in our elementary students by partnering with CCS to bring the Reading+Mentoring 4 Success program to two schools this year.
Click on a box to find out more.
We need you to volunteer to bring a love of literacy to our students! There are many ways you can help from a one-time commitment to an ongoing weekly commitment working directly with students. 
Click the FAQ picture below to see answers to the questions you may have. The FAQ page will be updated with new details as soon as they become available.