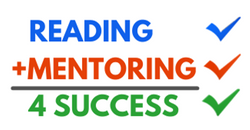 a
FREQUENTLY ASKED QUESTIONS
Who can be a mentor? Are there any special skills or background needed?
Anyone with a heart for students achieving can be a mentor. Some key traits for mentors are individuals who are compassionate and genuine, encouraging, inquisitive, actively listening to students, approachable, available and willing to learn.  With the training provided prior to starting and the ongoing coaching by the program coordinator, most people will be a successful mentor. The activities will be easy to lead students through and do not require any special skill sets. Mentors will be required to pass a background check.
When will the program begin?
Mentoring kick-off is targeted to begin October 1st. Training will be provided prior to this date.
What schools will be participating?
For the 2021-2022 school year, we will be piloting the program at two elementary schools: Rocky River and Wolf Meadow. 
What grades/ages will participating students be?
This program will target Kindergarten - 3rd grade. Students will typically range from age 5 - 9 years old.
Will I be working with just one student during the program?
Yes, you will work directly with just one student. We want our mentors to build a relationship with the particular student. Studies have shown a strong relationship between mentor and student to be a key success factor for a successful mentorship program. As such, some of the activities you will be completing with the student works to build this trusting relationship in addition to those building reading skills. 
How often do I need to meet with my mentee?
For the program to be successful, consistency with the mentor is key. We ask all mentors to commit to one or two weekly session(s) for October - May when students are in school. Of course, we realize a mentor might need to miss a week here or there, but we ask you to please minimize "breaks" as this time with students is critical to their achievement as well as students look forward to their visit each time. 
How long are the sessions and when are they?
Sessions should be 30-45 minutes. Mentors may select the timeframe which works best with their schedule - morning or lunchtime. Of course, we do not want to take students away from critical classroom learning time so the exact timeframe will be dependent on the school, grade and class schedule. Both factors will be considered when working to match you with your student. 
Will training be provided?
Absolutely, all volunteers will participate in a training prior to beginning the mentorship program. Ongoing training support will be provided by our on-site program coordinators.
Are activities and materials provided?
Yes, the activities and materials will be provided to you each week. Our activities are very structured to help build specific skills needed by your student.  Our program coordinator will be working closely with the teacher to select activities. As a part of this critical team, you will be asked to provide feedback to the program coordinator to help in targeting these activities.
HAVE OTHER QUESTIONS, PLEASE REACH OUT TO AMY GOUGH. CLICK ON HER NAME TO SEND AN EMAIL DIRECTLY TO HER.