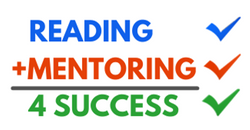 a
FREQUENTLY ASKED QUESTIONS
Striving Readers Mentoring
Who can be a mentor? Are there any special skills or background needed?
Anyone with a heart for students achieving can be a mentor. Some key traits for mentors are individuals who are compassionate and genuine, encouraging, inquisitive, actively listening to students, approachable, available and willing to learn.  With the training provided prior to starting and the ongoing coaching by the onsite program coordinator, most people will be a successful mentor. The activities will be easy to lead students through and do not require any special skill sets. Mentors will be required to pass a background check.
When will the program begin?
This year's mentoring sessions will begin at the first of October. 
What schools will be participating?
For the 2022-2023 school year, we will be piloting the program at two elementary schools: Rocky River and Wolf Meadow. 
What grades/ages will participating students be?
Students in first and second grade will be participating in the program this year. Students will typically range from age 6-8 years old. By targeting these grades, the enhancement students receive will set them up for success as they enter third grade as 3rd grade is an academically challenging and critical year. Our goal is to prevent students from entering third grade behind in this critical foundational skill.
Will I be working with just one student during the program?
Yes, you will work directly with just one student. We want our mentors to build a relationship with your assigned student. Studies have shown a strong relationship between mentor and student to be a key success factor for a successful mentorship program. As such, some of the activities you will be completing work to build this trusting relationship in addition to reading skills. 
How often do I need to meet with my mentee?
For the program to be successful, consistency with the mentor is key. We ask all mentors to commit to one or two weekly session(s) when students are in school. Of course, we realize a mentor might need to miss a week here or there, but we ask you to please minimize "breaks" as this time with students is critical to their achievement as well as students look forward to their visit each time. 
How long are the sessions and when are they?
Sessions will be 30 minutes. we ask that mentors arrive 15 minutes before the scheduled time to get checked into the school and be at the mentoring location ready to start. Mentors may select the day(s) of the week and any offered timeframes. Timeframes are dependent on school schedules as we don't want to take students away from critical core subject classroom learning time. Both factors will be considered when working to match you with your student. 
Will training be provided?
Absolutely, all volunteers will participate in a training prior to beginning the mentorship program. Ongoing training support will be provided by our onsite program coordinators.
Are activities and materials provided?
Yes, the activities and materials will be provided to you each week. Our activities are very structured to help build specific skills needed by your student.  Our program coordinator will be working closely with the teacher to select activities. As a part of this critical team, you will be asked to provide feedback to the program coordinator to help in targeting these activities.
Given the current pandemic status, what impact will this have on the program?
We closely monitoring the current situation and work directly with the schools and district. This program meets the district's guideline as a critical service to students so our program will continue to serve students even if schools are closed to general visitors and volunteers. Mentors will be expected to follow all health and safety protocols set by the district. At this time, no restrictions are in place at the district. CCEF will have masks available for use during the program if the volunteer prefers.
Pleasure Reading Incentive Program
Why are you focusing on pleasure reading?
Reading for pleasure demonstrates a love for reading. Reading for pleasure helps student achieve better reading attainment and writing acumen, increased text comprehension and a broader vocabulary. It also creates positive reading attitudes and greater self-confidence as a reader. And lastly, it creates life-long readers. To summarize, we want students who love to read!!
What incentives are offered to students? 
Students can earn a "voucher" for a self-selected reading material. The standards for earning a "voucher" are set at each school by the grade level teachers. 
Who can earn the incentive "voucher"?
All students in Kindergarten - 5th grade at the two pilot schools can earn a voucher. 
How do students get the "voucher"?
Students should talk with their teacher to document the pleasure reading time.
Book-a-Paloozas
What is a Book-a-Palooza?
A Book-a-Palooza is our book distribution event where students can exchange their earned "vouchers" for a reading material of their choice. These books and other reading materials become the student's to help build their at-home library so all students can read anytime, anywhere.
When are Book-a-Palooza events?
Book distributions happen five times per school year during the school day at each pilot school. 
HAVE OTHER QUESTIONS, PLEASE REACH OUT TO AMY GOUGH. CLICK ON HER NAME TO SEND AN EMAIL DIRECTLY TO HER.