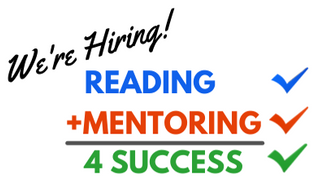 Reading is the foundation to all learning and we are working to help our Cabarrus County Schools' elementary students to succeed in reading through our Reading+Mentoring 4 Success program. 
We want students who love to read because reading sets a student on the pathway to success for a lifetime! When a child has a love of reading, students develop a strong leisure reading habit. This leads to greater academic success by making students more articulate, develops higher order reasoning, and promotes critical thinking. 
The Reading+Mentoring 4 Success program is comprised of three initiatives:
Pleasure Reading Incentives works to create a school culture that encourages reading for enjoyment and rewards students' efforts with an earned "reading voucher"
The Reading Closet helps students build an at-home library so they can read anytime and anywhere. Students exchange their "voucher" for a reading material of their choice - magazines, comic books, graphic novels, joke books, chapter books, folklores, poetry and many other options. The goal is that all students can find something they like to read that becomes their "own". 
Striving Readers Mentors help build a strong one-on-one relationship with a student to develop critical reading skills that have yet to be mastered and might hinder their success with reading. 
We want our CCS students to achieve 3rd grade reading proficiency so they can transition from "Learning to Reading" to "Reading to Learn" to put them on a pathway to future student success. 
Last year, all students who participated in the initial concept test of the Striving Readers Mentor initiative exceeded expected growth! Now, we are looking to fully implemented the full program for this school year.
AND YOU CAN BE A PART OF MAKING THIS HAPPEN! We are seeking several positions that will work to ensure the success of the program. Check out the various openings by downloading the job descriptions and see how you can be a part of this incredible program!
Please note: The Reading Closet Coordinator position may be fulfilled as a separate job or in conjunction with one of the onsite program coordinator positions.
---
APPLY