---
We're excited to announce that the Cabarrus County Career Connections Day is back for 2022!
This amazing event is no ordinary career fair. It is an interactive hands-on career development day where students can explore potential careers, interact with local employers and hear dynamic speakers prepare them for the workforce. High school juniors and seniors from both Cabarrus County Schools and Kannapolis City Schools will be invited to attend this exciting event that will help them see their future and prepare them for it!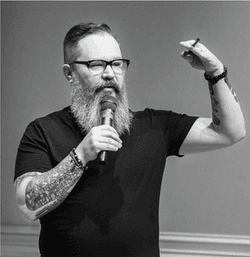 Chris Elmore will inspire the day as he shares his journey to entrepreneur, musician, professor, author, speaker and Snappy Dresser. Called a "Startup Hero" by North Carolina Business Magazine and a maverick and mold breaker by SouthPark Magazine, Chris has written 10 books and is an Adjunct Professor of Entrepreneurship and Innovation at UNC Charlotte and Queens University of Charlotte. Chris serves on the board of four startups and advisor to three other Charlotte-based companies. Chris began working at AvidXchange in 2000 as one of its earliest employees. AvidXchange, a global unicorn with a +$1 billion valuation, is one of the fastest growing fintech companies in the country with 1,300 employees across seven offices. 
At the Business Expo, students can network with businesses to explore career opportunities and how to gain valuable experience through internships, summer employment, part-time jobs, apprenticeships and full-time positions.
Leading local business leaders will share insight on scoring that job interview and getting that job, setting yourself up for success in your position, and establishing yourself as a leader on the job no matter your position. 
All of these opportunities culminate to encourage students to think outside the norm about their next step after high school. The Cabarrus County Career Connections Day is an investment in the future of Cabarrus County. 
Return to CCEF Website

---
BUSINESS EXPO PARTNERS