STUDENT TOOLBOX & CONNECT OUR KIDS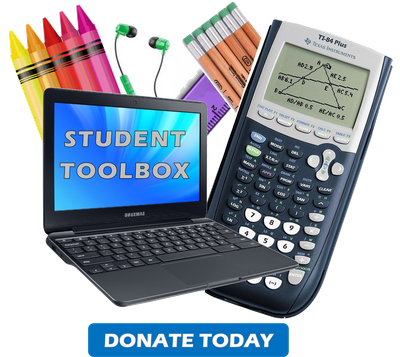 School reopening has never occurred like this before and our educators are facing an unprecedented challenge to provide cognitively challenging work to ensure students master educational standards. To be successful, students must have the supplies needed for success in any learning environment and avoid inequities among students of different socioeconomic status. 
The STUDENT TOOLBOX PROJECT 
Nothing is more foundational to school success this year than internet connectivity. It is estimated that 1,300-3,500 students do not have internet connectivity at home that will support "live" learning.
Students will need classroom supplies at home to assist with assignments.
As students return to the classroom, teacher can utilize classroom sets of supplies - calculators, crayons, markers, colored pencils, etc. Each student will need to have their own individual item to meet safety protocols. 
Sanitation equipment will be critical in classes such as Career & Technical Education (CTE) courses where students use hands-on equipment to gain real-world experience. Tools in automotive class, equipment in health science classes and cooking utensils in Food & Nutrition classes are just a few examples. 
No matter what the need is, CCEF is working to support CCS to ensure stimulating and engaging classrooms - both virtually and in-person where students thrive. 
CONNECT OUR KIDS
The difference in remote learning expectations this year versus last year demonstrates the criticality of internet access in its role for student success this year anytime we are in full remote learning and a hybrid of in-person and remote learning. 
| Spring 2020 | 2020-21 School Year |
| --- | --- |
| Learning could do be "live" if districts could not ensure access to every child | "Live" learning is occurring |
| Attendance expected but not required. | Attendance is required. |
| Grades could do harm once buildings closed. Students could opt to improve grade. | Grades will be based on mastery on instructional standards. |
a
Last spring when learning went remote, CCEF kicked off the Connect our Kids initiative with the assistance of Duke Energy Renewables and the Cabarrus County Community Foundation to provide hotspots to students in need. We thank them greatly!
But we have much more to do within a short timeframe! With an estimated 1,500 - 3,500 CCS students without internet capabilities at home, we are working with CCS to implement buses with WIFI capabilities, identify community internet cafe resources, provide hotspots as needed and seek other solutions. 
If you are in need of internet connectivity, please check out these resources:
          List of Community Resources Offering Internet Access