STUDENT TOOLBOX PROJECT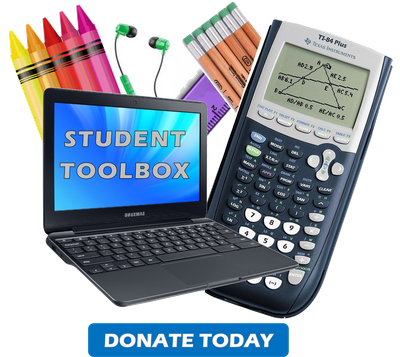 School reopening has never occurred like this before and our educators are facing an unprecedented challenge to provide cognitively challenging work to ensure students master educational standards. To be successful, students must have the supplies needed for success in any learning environment and avoid inequities among students of different socioeconomic status. 
Our students must demonstrate flexibility and adaptability while taking on learning in a new way, whether they are in the classroom or joining remotely. All students must have internet accessibility to learn; classroom students must be social distanced and cannot share supplies. Teachers have to provide equitable learning opportunities for all students whatever their needs are and wherever they may be.
CCEF stepped up to meet these demands last spring and is continuing to do so now. We are hard at work to make sure that students' and educators' needs are met. First, we have supported providing internet connectivity service to over 600 students. We also collaborated with local partners to set up community internet access cafes for students. Recently, we awarded almost $7,000 in grant funds to schools so that students can have access to the tools and resources needed to achieve. Opportunities such as bridge building simulations, science kits to use at home and a virtual reality escape room experience where students work together to apply learning.
But there are still needs - some known and some unknown at this time. CCEF is working to be prepared no matter what the need is as we continue to support CCS to ensure stimulating and engaging classrooms - both virtually and in-person where students thrive. 
INTERNET CONNECTIVITY
With schools starting back in the hybrid model, Plan B, on October 19th, CCS has had to discontinue the WI-FI bus locations. Check out these community internet access resources and also an offer from Spectrum.