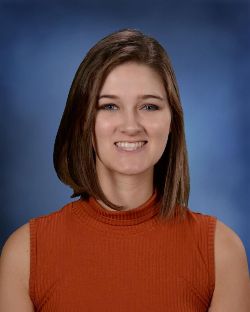 We are excited to announce Cabarrus County Schools' first ever NC State Education Scholar, Alyssa McNeary. Alyssa is in her second year of teaching math at Hickory Ridge High School.
Alyssa graduated from NC State University with a BS in Mathematics Education and a Computer Specialization. Go Wolfpack! She grew up about an hour away from Concord in Shelby, North Carolina and went to Shelby High School. There, she played the violin and enjoyed math and science. In college, she tried many different courses and topics before deciding that education was for her during her Sophomore year. We are excited to have Alyssa join Cabarrus County Schools as one of our first NC State Education Scholar.
What is an Education Scholar?
The NC State Education Scholar is a special partnership developed between Cabarrus County Schools and NC State University to recruit top teachers to the district. Realizing that most new teachers accept positions with school districts where they student teach and realizing most education majors student teach in close proximity to their college, this partnership works to bring top talent to a broader scope of school districts.
NC State Education Scholars are selected through a rigorous application process and interview usually during their junior or senior year. Upon agreement between the student and school district, the Scholar participates in a special summer opportunity between their junior and senior year as well as conduct their student teaching here in Cabarrus County Schools. Upon graduation, the student is offered a teaching position within the district. After each semester of teaching for the first two years, the Scholar receives a $2,500 stipend to assist with student loans and other expenses. 
This program supports Cabarrus County Schools to ensure that every student, every day has excellent educators. With the current shortage of teachers graduating from preparation programs these days, partnerships like this provide opportunities for the district to the best talent for our students!
We hope to expand this program to other universities and colleges.