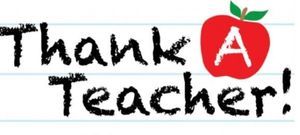 a
"Teacher appreciation makes the world of education go around."  – Helen Peters
This year more than ever, our students and parents faced a new world of distance learning due to the Coronavirus pandemic. Our teachers stepped up and ensured our students were supported in this new phase of learning. 
Each year for Teacher Appreciation Week, CCEF offers the Thank-a-Teacher gift catalog, but this year we were honored to provide Thank-a-Teacher Meals for our students and parents to demonstrate how much they appreciate all that our educators did to support their students.
Don't miss next year's catalog which will go live in mid-March.
---
PARTICIPATING RESTAURANTS
We want to thank our restaurant partners for all of their support in recognizing the amazing work of our educators!