"The mediocre teacher tells. The good teacher explains. The superior teacher demonstrates. The great teacher inspires."  ~ William Arthur Ward
2021 - 2022 CCS Teacher of the Year, Ashtyn Berry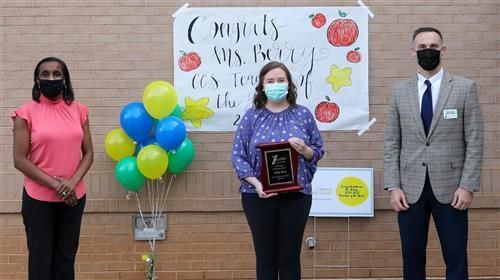 Katherine Highsmith - 2019-20 CCS Teacher of the Year
Update: CCS Teacher of the Year Ashtyn Berry has been selected as the 2022 Southwest Region Teacher of the Year.
Ashtyn Berry, a 3rd grade teacher at W.R. Odell Elementary School, was surprised in her classroom by Interim Superintendent Brian Schultz as they announced she was the CCS Teacher of the Year.
"Ms. Berry is an exemplary role model and lifelong learner," said Assistant Principal Danielle Baker. "Her students gravitate towards this, and they want to rise to the example that she sets. She is always looking at the bigger picture and able to find the bright spot in any situation, even the most difficult ones. Ms. Berry goes above and beyond to share best practices and ways to incorporate our diverse student body into everyday teaching."
"Ms. Ashtyn Berry is the quintessential teacher," said Principal Ward. "From the first time I met her, I knew that she was the kind of teacher that I wanted on my staff. And four years later, she's still shining and continues to make me proud."
Berry began her teaching career in 2013 and joined CCS in 2017. She earned a bachelor of arts degree in elementary education from Appalachian State University and currently is pursuing a master's degree in curriculum and instruction from ASU.
Congratulations to CCS 2021-2022 Teacher of the Year, Ashtyn Berry!
---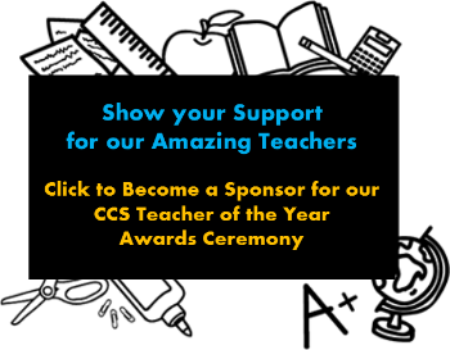 We are lucky to have the most effective teachers in North Carolina for the last three years! The CCS Teacher of the Year program honors those who positively impact their students, schools and communities alike and are teacher leaders at the school and district levels. Through this program, we seek to encourage those that stand out among their peers and inspire others to follow their lead.
The Cabarrus County Education Foundation supports CCS to create stimulating and engaging classrooms that inspire students to build their future. And no one is more important to the success of the classroom than the teacher. According to the Rand Corporation, a leading research nonprofit, "When it comes to student performance on reading and math tests, a teacher is estimated to have two to three times the impact of any other school factor." Furthermore, the results of a 2012 Harvard study showed a good teacher can influence a student's chances to attend college, earn more money, and even avoid teen pregnancy.
Each school nominates a Teacher of the Year who then continues through a rigorous selection process to determine the CCS Teacher of the Year.