"The mediocre teacher tells. The good teacher explains. The superior teacher demonstrates. The great teacher inspires."  ~ William Arthur Ward
2019 - 2020 CCS Teacher of the Year, Katherine Highsmith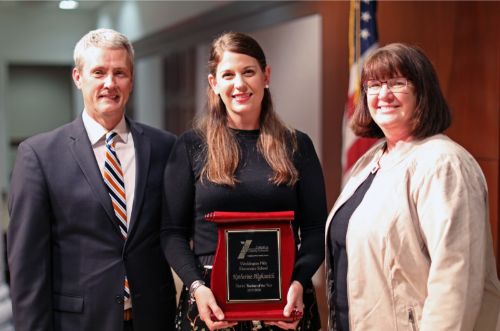 Katherine Highsmith - 2019-20 CCS Teacher of the Year
Katherine Highsmith, global inquiry and design teacher at Weddington Hills Elementary School, was named Cabarrus County Schools (CCS) Teacher of the Year in a ceremony on Tuesday, April 9th at Atrium Health Northeast's Hamrick Theatre.
"Kate has a natural ability to connect with students and make learning meaningful to them ... Her students, as well as her peers, confirm her exceptional qualities as a leader and motivator. Moreover, Kate has a natural ability to communicate well with others and her global mission and vision are evident in all that she does both personally and professionally. Her commitment to success is unmatched, and she is always willing to go above and beyond the call of duty. Kate's dedication and work ethic paired with her patience and compassion have an overarching impact in our school and community and for that we are very fortunate," shares Weddington Hills principal Chasity Dolan.
Highsmith began her teaching career with CCS in 2006 as an English teacher at Mount Pleasant High School and in 2010 transitioned to teaching art. In 2017, she had the opportunity to combine her passions for teaching and global awareness into the global inquiry and design teacher at Weddington Hills Elementary School. Highsmith was presented with the opportunity to develop her own curriculum for this course and infuse global awareness throughout her school.   
Congratulations to CCS 2019-2020 Teacher of the Year, Kate Highsmith!
---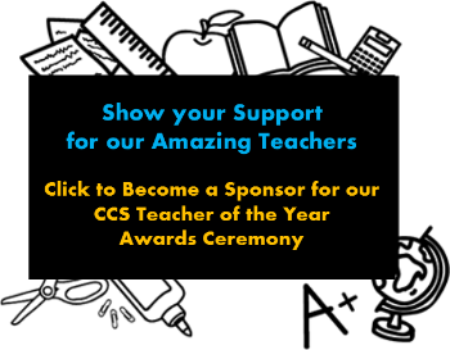 We are lucky to have the most effective teachers in North Carolina for the last three years! The CCS Teacher of the Year program honors those who positively impact their students, schools and communities alike and are teacher leaders at the school and district levels. Through this program, we seek to encourage those that stand out among their peers and inspire others to follow their lead.
The Cabarrus County Education Foundation supports CCS to create stimulating and engaging classrooms that inspire students to build their future. And no one is more important to the success of the classroom than the teacher. According to the Rand Corporation, a leading research nonprofit, "When it comes to student performance on reading and math tests, a teacher is estimated to have two to three times the impact of any other school factor." Furthermore, the results of a 2012 Harvard study showed a good teacher can influence a student's chances to attend college, earn more money, and even avoid teen pregnancy.
Each school nominates a Teacher of the Year who then continues through a rigorous selection process to determine the CCS Teacher of the Year.