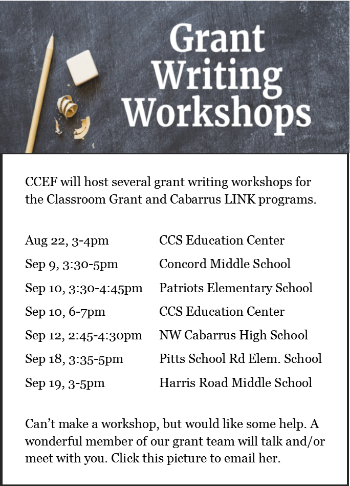 Our classroom grant program recognizes the incredible ideas our teachers and staff have for their students to experience learning in a new way! To date, we have awarded more than $140,000 to teachers and staff in Cabarrus County Schools.
All CCEF grant programs use a competitive grant selection process to identify the best proposals for funding :
Race to Education Grant is new this year and grant sponsor, Charlotte Motor Speedway, will award $750 to bring a racing-industry related project to life for students. 
David Fitts Community Service Classroom Grant presents up to $1,000 to teachers that expands classroom learning opportunities for students while also incorporating the students giving back to the community through their learning.
PK-12th Classroom Grant awards up to $750 to teachers to provide innovative new learning experiences for their students.
We have restructured our grant program for this year. To read about the CCEF program changes, please open the letter by clicking on the button.

Please select the version of the grant application you would like to download.
as
Past Grant Highlights