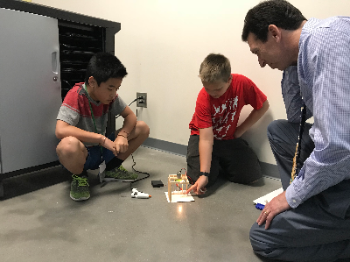 ANNOUNCING THE CAREER EXPLORATION CLASSROOM GRANT APPLICATION IS NOW AVAILABLE
CCEF is excited to announce the opening of the Career Explorations classroom grant application again for the 2019-2020 school year. Thank you to Ellis Jewelers for their continued support of this grant that introduces middle or high school students to careers that do not necessarily require a four-year college degree. 
Deadline for applications is December 6, 2019. 
---
Our classroom grant program recognizes the incredible ideas our teachers and staff have for their students to experience learning in a new way! To date, we have awarded more than $140,000 to teachers and staff in Cabarrus County Schools.
Always the best time of the year when we get to surprise our grant recipients with a visit from the Award Team! Congratulations to the following teachers for being awarded 2019-2020 classroom grants:
Bringing More Robots to Robotics - James Pittman @ JN Fries Middle
Build & Code with Botzees! - Tomarra Londeree @ Bethel Elementary
Building a Math Foundation...One Brick at a Time - Carmen Money @ R. Brown McAllister Elementary
Creating Perspective with the Power of Words - Mary Cashwell @ Hickory Ridge Middle (David Fitts Community Service classroom grant)
Digital Illustration & Character Design - Vanessa Venable @ Hickory Ridge High
Portable Tool Sheds: An Engineering Design & Carpentry PBL - Danny Kiser & Richard Thornton @ Central Cabarrus High
Racing with Ollie - Lara Cabaniss @ R. Brown McAllister Elementary (Race into Education classroom grant)
She Sells Seashells Down by the Seashore - Kate Highsmith @ Weddington Hills Elementary
States or Bust! - Elizabeth Thompson @ Cabarrus Tech Early College High
STEM Spark of Collaboration - Bonnie Robinson @ AT Allen Elementary
A "Wonder"-ful Robotics Competition - Leslie Cauble @ Beverly Hills Elementary
as
Past Grant Highlights