---
Today's high school juniors and seniors will be entering the workforce in the next 3 months - 5 years. There is no better way to build your funnel of future employees than to begin planting the seeds for employment with today's high school students. That is the impetus behind the Business Expo at the Cabarrus County Career Connections Day. Businesses can help students understand the vast array of career opportunities and how to gain valuable experience through internships, summer employment, part-time jobs, apprenticeships and full-time positions.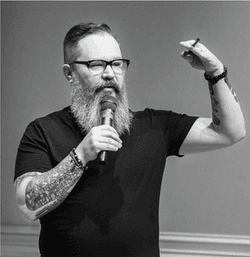 Students will be inspired by the keynote speaker, Chris Elmore as he shares his journey to entrepreneur, musician, professor, author, speaker and Snappy Dresser. Called a "Startup Hero" by North Carolina Business Magazine and a maverick and mold breaker by SouthPark Magazine, Chris has written 10 books and is an Adjunct Professor of Entrepreneurship and Innovation at UNC Charlotte and Queens University of Charlotte. Chris serves on the board of four startups and advisor to three other Charlotte-based companies. Chris began working at AvidXchange in 2000 as one of its earliest employees. AvidXchange, a global unicorn with a +$1 billion valuation, is one of the fastest growing fintech companies in the country with 1,300 employees across seven offices. 
And local business leaders will mentor students on scoring that job interview and getting that job, setting yourself up for success in your position, and establishing yourself as a leader on the job no matter your position. 
All of these experiences culminate in this one day to encourage students to think outside the norm regarding their next step after high school. The Cabarrus County Career Connections Day is truly an investment in the future of Cabarrus County. 
REGISTRATION FOR 2022
SPONSORSHIPS and CORPORATE BOOTHS
IS NOW CLOSED.
BUSINESS EXPO REGISTRATION DEADLINE HAS
BEEN EXTENDED TO MARCH 27, 2022.


SOME MARKETING BENEFITS WILL BE LIMITED DUE TO VENDOR DEADLINES.
For questions or issues, please contact the CCEF office at 704.260.5608 or email Amy.
Return to Cabarrus County Career Connections Day Event Page
---

---
BUSINESS EXPO PARTNERS