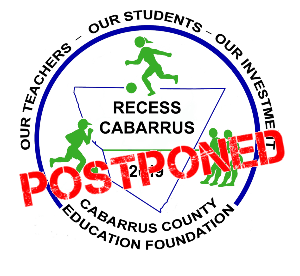 Unfortunately, due to the inclement weather forecasted for the event, we have decided to postpone CCEF's Recess Cabarrus fundraiser to Fall 2019. In consultation with Cabarrus County Active Living and Parks and our leadership team, the decision was made due to concerns for players' safety and field conditions. A new date will be announced shortly so if you want to join the fun, start building your team and we will announce soon.
Where else can you play kickball, dodgeball, pyramid soccer and more while helping provide opportunities for our Cabarrus County Schools' students to gain hands-on learning experiences such as building sound booths and recording 'What Matters to Me' podcasts? But get ready for Recess Cabarrus 2019 - Round 2!
Remember the Fun You Had?
Come enjoy the best part of school - RECESS! The tables are turned as the adults compete in the games you used to play at recess - some with a modern twist. There is no better way to spend a Saturday having fun and raising funds to help our CCS students achieve! To see what it is all about, watch the video below!
Recess Cabarrus 2019 - Round 2 coming Fall 2019
New date announced soon 
Teams will compete in kickball, dodgeball, sand volleyball, obstacle course, tug-of-war and pyramid soccer. Put together your own team  or sponsor a school team to play in the games!
If you aren't up to playing, you can still join in all the fun! Come cheer on the teams, grab some lunch at one of the food trucks and visit our vendors in Recess City. With the Cabarrus County Annual Easter Egg Hunt and the many activities available at Frank Liske Park that day, there is something for everyone of all ages to do!
With over 3,000+ expected at the park that day, companies will want to promote their business/organization in Recess City with a marketing booth. 
And to wrap it all up - we will crown the 2019 Recess Cabarrus Grand Champion!
Find out more information about the various ways to get involved below:
---
SPONSORS